---
For the uninitiated, a renovation can at times be daunting.
Where to begin?
Who to hire?
And in what order?
Here we spell out the most common steps involved in project managing a renovation, and throw in some expert tips that even seasoned renovators will appreciate.
1. FEASIBILITY
The first question to ask is: which improvements are worth making on your particular property?
Property expert Michael Yardney, director of Metropole Property Investment Strategists, suggests investors begin with cosmetic renovations because "they're simpler, cheaper and often produce a greater bang for buck".
He says structural changes such as rewiring and replumbing are things that people don't see and therefore the financial return on those types of outlays can be poor.
Nevertheless, consider the changes your particular property needs, and then work out an estimated cost.
Get quotes on which to base your cost estimates rather than just taking guesses.
And always plan for contingencies.
"There are always unknowns," Yardney says.

"For example, there might be things behind the plaster when you take it down which you won't be aware of when doing your initial planning."
Once you have an estimated reno cost, look up comparable properties online and perhaps chat to local real estate agents and property managers to get an idea of what your property will be worth – in both value and rental – after your proposed renovation.
When assessing the merits of the project, keep in mind that a good renovation will tend to increase your rental yield. (Of course, if the project is to improve the home you live in, then you may not be as concerned with the return on your investment).
Assuming your budget is acceptable and you've weighed up the commercial merits of the project, at this point you may need to seek finance to fund your renovation.
2. WORK OUT WHICH TASKS TO OUTSOURCE
Laws, which vary in each state, prevent unqualified people from doing certain types of work.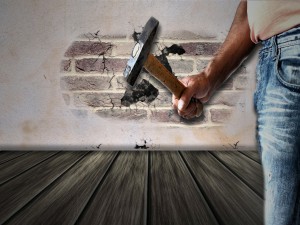 In general, electrical work must be carried out by a licensed electrician and plumbing must be done by a licensed plumber.
While you can make cosmetic changes to a property yourself, more extensive building work, must be done by a registered builder.
You can, however, do a course to gain an owner-builder permit and then carry out your own work.
Speak to the Building Services Authority, or equivalent in your state, to find out more.
While registered builders are required for big projects, you can often hire a handyman or labourer – a cheaper option than a registered builder – to do building work valued at less than around $3,000. (This dollar amount varies a fair bit depending on where you live. Check the legislation in your state).
Yardney cautions inexperienced people from doing too much renovation work themselves.
"People see TV shows like The Block and think they might turn their hand to the actual renovation work, but there's not that much of a margin in renovation work and, for many investors, taking on the renovation work themselves turns out to be an expensive learning exercise."
Yardney also recommends that for people working full time, hiring a project manager can often save them money in the long run.
With a hired project manager, a renovation with no major structural work can take four to six weeks, according to Yardney.
However, people managing their own renovation can take many months to complete the job.
Do your sums, if the rent you miss out on due to a longer timeframe exceeds the cost of hiring someone to do the job for you, it obviously makes more sense to outsource.
3. BEGIN THE COUNCIL APPROVAL PROCESS
Very early on, you should either speak to an architect or draftsperson, or make enquiries yourself with your local council, to find out which aspects of your renovation might need council approval.
Renovation expert and architect Dion Seminara from Dion Seminara Architecture says that as a rule of thumb, council approval is required where the renovations involve changing the exterior of the building (particularly in character areas), internal structural changes, moving plumbing or adding to the floor area of your property.
Obtaining council approval usually involves having appropriate drawings prepared by an architect/draftsperson and submitting these to a building certifier within council (or sometimes an independent certifier).
Either yourself or your architect can make this submission.
The process and timing varies from one council area to the next.
However, Brisbane based Seminara says building approval (relating to changes to a building's structure) can take anywhere from 24 hours to four weeks in Queensland, for example.
For some renovations, planning approval may also be required to ensure the changes complement the existing streetscape.
This should be the first thing you consider as it can take anywhere from two to eight months for this process.
"It's essential to ensure all the required information is supplied," Seminara says.

"Using a professional, such as an architect, will ensure as seamless a process as is possible. In addition to a building approval you may also need an energy assessment and often plumbing and drainage approval," Seminara explains.
Yardney says that throughout the renovation you may need to liaise with council on other issues, such as alerting it to the fact that you'll have a skip bin on the nature strip for a period of time.
4. CHECK YOUR BODY CORPORATE RULES
The body corporate looks after common property in unit blocks and town house complexes and regulates activities in the interests of the owners.
It's also known as the owner's corporation, strata company or community corporation, depending on which state you live in.
If you're renovating a unit or townhouse, talk to your body corporate early on – or review a copy of the body corporate rules or by-laws – to find out what limitations you might face.
"If you're doing work in an apartment sometimes you need body corporate permissions to put an air conditioning unit on a balcony, or to do things which impact on a common area such as putting a skip bin in the carpark to collect rubbish," Yardney says.
Seminara adds that body corporate approval is typically required for structural changes, changes to a building's exterior and anything which may affect body corporate property such as common areas.
5. SOURCE TRADIES
Make sure your source good quality tradespeople who are appropriately insured.
For larger scale work, Seminara stresses the need for renovators to get at least three quotes from different builders based on a complete set of drawings or documents from an architect.
For smaller pieces of work from builders or other tradespeople, Seminara recommends setting out the scope of the required work in writing, so that everyone providing quotes is given the same information, and you know exactly what you've asked for.
Once the quotes have been submitted, negotiate and agree on details with the relevant tradespeople and other service providers, and then Yardney suggests putting the work's scope, timing, cost (or basis for calculating cost) in writing.
6. PURCHASE MATERIALS
Following discussions with your tradies, you'll need to purchase materials such as tap fittings, sinks, lighting and blinds, to name just a few.
Yardney suggests opening a trade account with your preferred suppliers.
That way, you're entitled to the discounts enjoyed by tradespeople.
Of course, there may be many instances where it's more convenient for your tradesperson to pick up required materials.
"You have to organise purchase, and also timely delivery, of materials so they're ready for the tradespeople and the tradespeople aren't hanging around waiting," Yardney says.
However, he warns against having too many materials at the property taking up space and getting in the way of the work being done.
7. DETERMINE THE ORDER OF SERVICE PROVIDERS
The precise order of your helpers will vary depending on the nature of the renovation.
Some tradespeople can overlap and work simultaneously.
As they quote on the job, they'll give you advice about the order in which to bring in various tradespeople.
Here's a rough guide of what to expect and when:
Architect and Structural Engineer. These will be required if the renovation is substantial and involves structural work such as the removal of walls. Otherwise, builders can provide building guidance.
Quantity surveyor. Yardney points out that often a quantity surveyor will be brought in at the end of the renovation to quantify depreciating assets for the purposes of claiming depreciation deductions. But he recommends they also be used at the beginning of the renovation process to put together a scrapping schedule, which is a list of the items which can be written off as an immediate tax deduction before they're scrapped.
A registered builder. At a minimum, a registered builder will be required if the renovation involves structural work. The builder may also project manage many of the steps below.
Labourer. Yardney says a labourer will be ideal for work required to demolish or empty a property before it's renovated.
Cabinetmaker. Yardney points out that there can be a considerable time lag between when items such as cupboards and benchtops are measured and when they're ready for installation. So get cracking early on this one.
Electrician/plumber. Liaise with these tradespeople to determine who should go first. That will depend on the nature of the work being done.
Plasterer.
Painter. For final touch-ups, if required.
Carpet layer/flooring. Floor specialists can come before the painter if need be, but it can be difficult to remove paint from carpet or newly polished floorboards, so it's often better to do this work when the painter has finished.
Landscaper. Exterior work may occur earlier in the process but it's sometimes better to wait until other tradespeople, and their equipment and mess, have gone.
Council (or independent) building certifier. To certify structural work done (if applicable).
Quantity surveyor. Back again, as explained earlier.
8. MONITOR THE WORK
Regular site visits are an important way to check on the quality of the work being done, troubleshoot and hold you tradies accountable.
"You need to make sure materials have turned up. You need to make sure tradies are doing things in the correct order and in the correct way," says Yardney.
Failing to do this step well can cost you a lot of money, time and sanity.
9. CLEAN UP
When the work is complete, you or someone you've hired should give the property a final clean.
10. GET AN APPRAISAL
You may now want to see a real estate agent for a rental or sales appraisal.
Depending on your strategy, you'll then be ready to live in, sell or rent out your property.
This article was written by Michaela Keogh and originally published in Australian Property Investor Magazine and has been republished with their permission.
SUBSCRIBE & DON'T MISS A SINGLE EPISODE OF MICHAEL YARDNEY'S PODCAST
Hear Michael & a select panel of guest experts discuss property investment, success & money related topics. Subscribe now, whether you're on an Apple or Android handset.
PREFER TO SUBSCRIBE VIA EMAIL?
Join Michael Yardney's inner circle of daily subscribers and get into the head of Australia's best property investment advisor and a wide team of leading property researchers and commentators.
---
---