Today let's look at how our property markets are shaping up for 2015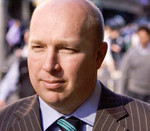 The Darwin market is in a full blown slump.
The negativity going on in Darwin, has been getting worse.
Vacancy rates have continued to rise over summer, rents on our numbers are now down 14% and are in a clear downtrend as shown by this chart.
Sydney on the other hand is still looking strong.
Over recent summers (and including this one) we have been getting the usual commentary from the usual suspects stating the market is about to slow down, is slowing down, etc.
It is increasingly feeling like the boys who cried wolf.
Sooner or later they will be right but right now, a slowdown currently happening in Sydney? Hardly.
I frequently speak with trusted agents with Sydney and I spent the Xmas period doing just that.
All were reporting active buyers even right through that Xmas/New year week.
Business was strong for them.
Now invariably a slowdown will come.
The market cannot keep growing at a rate of 15% forever.
Our forecast for this current financial year was 8-12% and I see nothing in the market to suggest it will be below that range.
If the rate cut comes it will be yet another bull market for Sydney property for the full calendar year.
My forecast for the opening of the Sydney auction season:
Clearance rates will rise from the closing levels of the high 60's in December.
The Sydney auction market will most likely open up in the early to mid 70's.
Melbourne:
Melbourne's property market is looking a little stronger since our last update.
Note for example their stock on market numbers.
There was a big fall in December (which is common) but the important point is stock levels are clearly lower than levels recorded a year earlier.
There has been for quite sometime significant concern about what is coming onto the market in Melbourne with regard to new stock.
And yes, in the inner ring those concerns are warranted as shown by this chart.
But overall the city wide trend chart shows vacancy rates having peaked, and if anything, have slightly trended down in the last two years.
Perth:
Perth , on our numbers is recording come conflicting signals right now.
On one hand vacancy rates are high (for Perth) and continue to trend higher. On the other, asking rents have recently trended up again.
It's unclear why rents would do this.
It could be just an statistical aberration in the ongoing down market. It is possible too, it may represent a signal of a bottom in the market.
Right now its too early to call it.
The sales market in Perth has been very flat/steady this year.
Not a great surprise really given the commodities downturn.
Indeed for existing property owners, the result could have been a lot worse as shown in the rental market.
With stock levels on the rise though, we don't think we will see anything but an ongoing slow market for Perth in 2015.
Hobart:
Hobart remains one of our investment picks for 2015.
I like how vacancy rates have trended and rents have risen. And I like what I see on the sales market. Nothing over Xmas/New Year has made me change that view.
A lower Australian dollar helps the Hobart ecotourism sector and also helps with their agricultural economy
Canberra
Late last year, I had the impression that perhaps Canberra was having a bottom in its rental market.
Now that we have the result in for December I am not so sure anymore.
The result was a big jump in vacancies back to 2.3%.
That said, the sales market appears to be strengthening as stock on market is trending down, implying that supply is being absorbed by home buyers.
Potentially there might be quite a few buyers who are taking advantage of rate cuts and what was a very weak market.
Bottom line:
Overall as the data clearly shows that there is currently no one national market that is in sync with itself.
However there are waves sweeping through the market influencing the regions by various magnitudes.
Clearly the rate cuts of recent years have influenced the east coast more than the west coast.
There are also local events which are having a greater influence on each region and I see it remaining that way for the foreseeable future.
For property investors, these are not bad times to operate in, if you do your research and study how each region is moving and what is influencing those movements.
The threat of a rapid rise in interest rates now seems remote.
Of course the threat of higher unemployment is there but that's where a study of the local market would help.

Subscribe & don't miss a single episode of Michael Yardney's podcast
Hear Michael & a select panel of guest experts discuss property investment, success & money related topics. Subscribe now, whether you're on an Apple or Android handset.
Need help listening to Michael Yardney's podcast from your phone or tablet?
We have created easy to follow instructions for you whether you're on iPhone / iPad or an Android device.

Prefer to subscribe via email?
Join Michael Yardney's inner circle of daily subscribers and get into the head of Australia's best property investment advisor and a wide team of leading property researchers and commentators.
---
---