Combined capital city home values have increased substantially since the financial crisis in 2008 however, this is largely being driven by the Sydney market and Melbourne market with value growth muted in most other capital cities.
As the financial crisis hit in 2007/08, Australia's combined capital city housing markets experienced a -6.1% decline in home values between March and December 2008.
Due to aggressive interest rate cuts by the Reserve Bank (RBA) and the introduction of the boost to the First Home Owners Grant, further home value declines were averted.
In fact, home values began to rise across two cycles; from December 2008 and in June 2016, 7.5 years later, combined capital city home values are now 54.9% higher.
The first chart highlights the increases in home values over the past 7.5 years.
What is immediately noticeable is that the increases have been all about Sydney (87.9%) and Melbourne (71.8%).
In fact, most other capital cities have recorded growth which is around or below the rate of inflation.
From December 2008, combined capital city home values increased until October 2010, rising by 21.8%.
Official interest rates were first increased coming out of the financial crisis in October 2009, rising by 175 basis points to November 2010.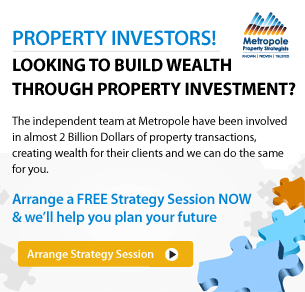 The boost to the First Home Buyers Grant was partially removed in September 2009 and completely removed after December 31 2010.
These combined factors saw the rate of value growth slow, followed by a decline in dwelling values.
The second chart highlights that from December 2008 to October 2010 dwelling values rose in all cities with Sydney, Melbourne and Darwin the standouts.
Despite very low interest rates, Brisbane, Adelaide, Perth and Hobart recorded little value growth over this period.
Between October 2010 and May 2012 as stimulus was removed from the housing market, combined capital city home values fell by -7.4%.
Darwin, Melbourne and Brisbane recorded the largest falls over the period.
Looking back at this period it is clear that low interest rates and first home buyer incentives stimulated the market and, as they were removed, demand was shown to be fragile.
In October 2010, official interest rates were recorded at 4.75% and by May 2012 they had fallen by 100 basis points to 3.75%.
From May 2012 to June 2016, combined capital city home values have increased by 37.3% while official interest rates fell by 200 basis points to 1.75%.
Although home values have increased over the period, Sydney and Melbourne have recorded a substantially higher rate of value growth than all other capital cities.
The data indicates that since the financial crisis the capital city housing market could be described as being extremely interest rate sensitive.
Digging deeper into the data shows that in reality it is only Sydney and Melbourne that have really responded to the stimulus of low interest rates.
The relative strength of the Sydney and Melbourne economies and the much greater employment growth has clearly assisted drive housing values higher in these cities.
Until the economic performance improves outside of Sydney and Melbourne it seems unlikely that sustainable growth will return in these areas despite the extremely low interest rates which are set to potentially move even lower over the coming months.
For Sydney and Melbourne although affordability is increasingly becoming stretched home owners have experienced a substantial increase in equity.
With historically weak rental markets and record low yields it will be interesting to see if investors and upgraders in the two largest capital cities continue to show a thirst for housing in these cities given the growth phase has now been running for more than four years.

Subscribe & don't miss a single episode of Michael Yardney's podcast
Hear Michael & a select panel of guest experts discuss property investment, success & money related topics. Subscribe now, whether you're on an Apple or Android handset.
Need help listening to Michael Yardney's podcast from your phone or tablet?
We have created easy to follow instructions for you whether you're on iPhone / iPad or an Android device.

Prefer to subscribe via email?
Join Michael Yardney's inner circle of daily subscribers and get into the head of Australia's best property investment advisor and a wide team of leading property researchers and commentators.
---
---