Lending practices by Australia's big banks are in the spotlight after admissions earlier this week by Westpac and ANZ that they approved home loans based on fraudulent documents.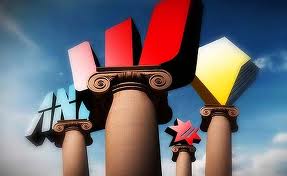 It is alleged that certain (unnamed) mortgage brokers helped to manufacture fraudulent documents which provided false claims of foreign income, which are more difficult to verify than those with income generated locally.
Westpac and ANZ say hundreds of loans have been approved based on fraudulent documents about the foreign income of some borrowers.
As well as conducting their own investigations, the banks say they've also alerted police and the regulator.
More recently it has been reported that NAB is launching an investigation after receiving a tip-off about a mortgage broker involved in a new tower development in Melbourne's Southbank.
But this could just be the tip of the iceberg…
I've been told by some industry sources that the problem is much bigger than currently stated and some interesting stories will come out in the weeks ahead.
Interestingly this weekend the Australian Financial Review reported that it has obtained a copy of a recent loan application in Chinese and English that bilingual lending experts said was a "ludicrously obvious forgery" for a $960,000 loan to purchase a $1.06 million Sydney apartment.
The documents came from mortgage brokers who manufactured fake Chinese paperwork.
Foreign real estate buyers have paid about $200 each for forged bank income and spending statements used in mortgage applications, mortgage industry sources told the AFR.
Is this really a problem?
LF Economics founder Lindsay David was reported in news.com.au as saying that fraudulent lending is rife in Australia's property market — and that we should all be scared.
And with much of Australia's economy linked to the property market, he said, the results could be catastrophic.
"There are just too many loans out there that are simply never going to be able to be repaid," Mr David said.
Although this is concerning,
according to the AFR these loans have actually performed better than the banks' average home loan as apparently many of these loans are ahead on their repayments, and they also have a lower delinquency rate than the portfolio average.
What's more, the loans themselves are believed to make up only a fraction of the banks' overall mortgage books – is likely to be less than $1 billion, or 0.12 per cent of their combined $837 billion of residential mortgages.
However the response from lenders has been to stop lending to overseas' borrowers because of growing evidence that thousands of similar loan applications are being processed, or could have been approved and processed.
This is likley to be a much bigger issue as foreign investors have been underpinning our new and off the plan property markets.
I covered this issue in detail in this blog – Is this the end of foreign investment in Australian property – on Friday.
Two other issues around this are: