The ABS released its Australian Demographic Statistics today for the final quarter of 2014.
As expected, population growth was slower than it was through 2013, although in the event not quite as slow as my projections.
Let's take a look in two parts.
Part 1 – Australian population growth in 2014
Population growth slowed in the fourth quarter to 64,000, some way lower than the 84,000 seen in the prior year equivalent quarter, taking annual population growth to 330,200 for the calendar year, or 1.4 per cent.
We already know that net long-term immigration will continue to slow in the first quarter of 2015, there.
However, it appears likely to me that there may be some compensation in the form of short-term arrivals in the current calendar year, particularly from foreign students – there were a record 147,000 enrolments in the first three months of this year.
After a huge surge of births in the third quarter of 2014 at 82,000, the number of "arrivals" slowed down again in Q4, taking rolling annual births to a shade under 300,000.
Of course as the population grows, alas so do more of us pass away, and "departures" continued to tick up from 146,600 in 2013 to 153,600 in 2014…a record high!
The backdrop to 2014 is that net overseas migration slowed from 216,000 to 184,000, and it will be a little while before we see these figures rebound, although the Department of Immigration's figures do forecast a strong resurgence in time.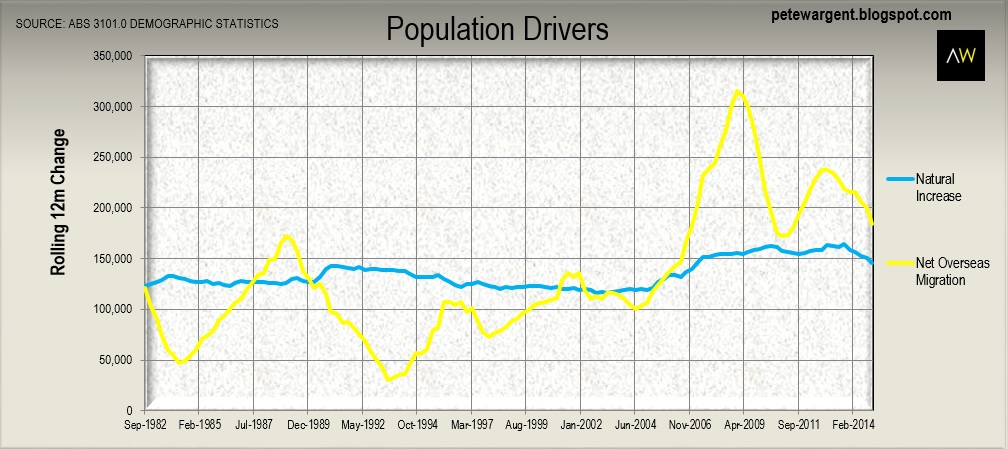 As a result, on a rolling annual basis total population growth slowed to 330,200, with something of a downward revision to previous figures, meaning that the population today in June 2015 sits at 23.8 million.
Counting that back the population as at December 2014 was approximately 23,625,621.
Here's the long-term chart which shows a thumping increase to the Aussie population of 8.7 million since June 1981.
Part 2 – State versus state
The really interesting stuff is taking place at the state level.
As expected, net overseas migration into the mining states declined sharply in 2014, while Melbourne and Sydney continue to attract immigrants.
Normally at this stage in the property market cycle we would expect to see a surge of net interstate migration into Queensland, and the positive news for the Sunshine State is that it still benefits from a net population inflow from interstate.
However, we aren't seeing too many New South Welshmen following my path north yet, though I reckon this could start to happen as Sydney's house prices launch into orbit (I know for certain that more interstate property investors are looking in Brisbane now).
On the other hand at this stage of the commodity cycle Western Australia is no longer attracting Aussies for employment, and has now joined South Australia – a state which continues to suffer from a debilitating brain drain – in losing folk to domestic pastures new.
The strongest employment market in Australia is presently Sydney, and net interstate migration from New South Wales has dwindled to its lowest level on record, thereby maintaining the massive population pressures in the harbour city.
Cobbling it all together, New South Wales (+103,000), Victoria (+101,500), Queensland (+64,200) and Western Australia (+40,100) accounted for a whopping 94 per cent of Australia's population growth in 2014.
With a population growth rate of just 0.9 per cent South Australia (+14,800) accounts for most of the remainder, the ACT saw a little growth (+4,300), and there was very little absolute population growth elsewhere.
As a minor point of interest, here are today's population growth rates compared with 1985.
Interestingly Victoria's annual population growth was more than 137 per cent higher in 2014 than it was in 1985, not a point that is ever mentioned during those endlessly circular negative gearing debates.
Over the last decade, New South Wales (+896,000), Victoria (+929,000), Queensland (+878,000) and Western Australia (+587,000) accounted for 92 per cent of Australia's population growth.
Looking at the figures in a line chart shows just how flat population growth has been outside of the four most populous states.
At the end of 2014 New South Wales had the largest population at 7.6 million. with Victoria next in line at 5.9 million and then Queensland at 4.8 million.

Subscribe & don't miss a single episode of michael yardney's podcast
Hear Michael & a select panel of guest experts discuss property investment, success & money related topics. Subscribe now, whether you're on an Apple or Android handset.
Need help listening to michael yardney's podcast from your phone or tablet?
We have created easy to follow instructions for you whether you're on iPhone / iPad or an Android device.

Prefer to subscribe via email?
Join Michael Yardney's inner circle of daily subscribers and get into the head of Australia's best property investment advisor and a wide team of leading property researchers and commentators.
---
---