Boy, was 2015 an interesting year in property – starting with a bang and finishing with a whimper.
It will go down in history as the year the property boom in Sydney and Melbourne came to an end.
Now don't get me wrong…
Our markets are not going to crash, and there will still be (selective) good price growth.
But the rate of growth we've recently experienced in Sydney and Melbourne was unsustainable, considering our low inflation, rate, low interest rates and low wages growth and the boom run of the last 3 years has come to an end.
Our markets are fragmented
I don't remember ever seeing our property markets as fragmented.
While the pace of capital growth has slowed over the last few months, individual performances remain patchy and mixed both between our capital city markets and market segments within them, reflecting the underlying impact of local supply and demand factors and in particular local economic and job growth.
Source: CoreLogic
APRA stopped the party
We'll also remember 2015 as the year the Australian Prudential Regulation Authority stepped in to try and slow down the investor frenzy, introducing guidelines to major lenders that would result in stemming the growth rate of their residential investment loans.
Despite arguments around the effectiveness of these measure, the new guidelines certainly seem to have played their part with many borrowers having to adjust their expectations when seeking a loan.
The following graph shows how the heat has come out of investor lending over the year: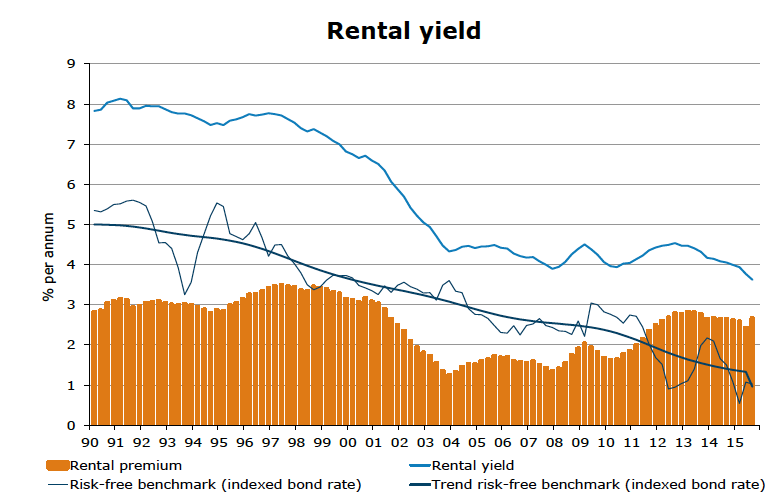 Source: ANZ Bank
Rental yields fell
With rising house prices and minimal rental growth, 2015 will also go down as the year of falling rental yields
CoreLogic reported it's the lowest annual growth rate on record, with rents across Australia's capital cities rose by just 0.3% over the twelve months to the end of November.
The only cities to record an increase of at least 2% in rental rates for the year were Sydney and Melbourne.
Rates fell over the year in Brisbane, Perth and Darwin, while the remaining capitals have seen rents rise by less than 1.5% over the year.

Source: ANZ Bank
Why Sydney and Melbourne?
It's really been a two horse race in property this year with Sydney the standout performer over the last year (+12.8%), and Melbourne being the best performing market over the last 3 few months (+11.8% for the year).
The main reasons property values in our 2 big capital cities grew so strongly was their strong economic and jobs growth as well as massive population growth; with a round 60% of the immigrants coming to these two cities to chase the jobs there.
At the same time the outflow of residents from Sydney and Melbourne to other states, particularly Queensland and Western Australia, has slowed dramatically since the end of the mining boom.
Of course it also helped that many property investors chasing capital growth have been targeting these cities.
Signs that our markets are cooling:
2016 will usher in a very different property climate.
We've finished the year with lower auction clearance rates, agents encouraging and vendors accepting pre auction offers, more properties for sale and falling buyer confidence.
It's likely the year will start off with a lot of negative media causing a dampening in consumer confidence around property.
We'll probably see headlines like – "Property market crash!", "House prices are unaffordable!"; "The world's economy is stalling";
"Chinese money will stop coming to Australia and our markets will crash"; "Interest rates are rising, no they're falling",
"Australia will go into recession"; "Kim Kardashian does it again!"
The media is likely to put a negative spin on the cool change that has swept across pockets of the property market, while others will see these changes as an opportunity.
However you see it, 2015 was an interesting year in property and all the signs point to 2016 being an even more "interesting" year.
What will YOU do in 2016?
If you're looking for independent property investment advice to help you become financially independent, no one can help you quite like the independent property investment strategists at Metropole.
We'll help you cut through the clutter of mixed property messages.
Remember the multi-award winning team of property investment strategists at Metropole have no properties on the market to sell, so their advice is unbiased.
Whether you are a beginner or a seasoned property investor, we would love to help you formulate an investment strategy or do a review of your existing portfolio, and help you take your property investment to the next level.
Please click here to organise a time for a chat.
OR CALL US ON 1300 20 30 30.
When you attend our offices in Melbourne, Sydney or Brisbane you will receive a free copy of my latest 2 x DVD program Building Wealth through Property Investment in the new Economy valued at $49.

Subscribe & don't miss a single episode of Michael Yardney's podcast
Hear Michael & a select panel of guest experts discuss property investment, success & money related topics. Subscribe now, whether you're on an Apple or Android handset.
Need help listening to Michael Yardney's podcast from your phone or tablet?
We have created easy to follow instructions for you whether you're on iPhone / iPad or an Android device.

Prefer to subscribe via email?
Join Michael Yardney's inner circle of daily subscribers and get into the head of Australia's best property investment advisor and a wide team of leading property researchers and commentators.
---
---