According to most of the political pundits, Trump should be long gone from the Presidential race.
Instead, he is growing in popularity. Why?
Love him or hate him, Donald Trump has adopted one leadership habit which is responsible for his poll numbers.
He is fearless.
63% of the millionaires in my Rich Habits study said they were not afraid to take risks.
The 177 self-made millionaires pursued success with a fearlessness that turned adversity into opportunity, enemies into supporters and competitors into partners.
Leaders are not afraid to take risks that others shrink from
Trump takes risks every time he opens his mouth.
He says controversial things that the media and the political establishment immediately jumps on.
As a result, he is perpetually on the hot seat.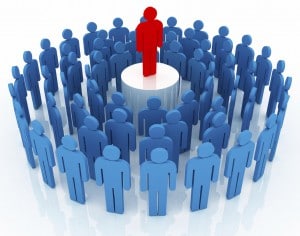 But instead of retreating or shrinking from his statements, he doubles down.
Instead of apologising for his comments or ignoring his critics, as most politicians do, Trump goes on the offensive and attacks back.
He simply has no fear of the media or the political establishment.
And the average Joe admires his fearlessness.
Fearlessness is a trait of every successful leader.
We see this same leadership trait in Elon Musk.
Many may not know that his Space X and Tesla Motors companies were on the verge of bankruptcy in 2008.
In fact, Musk was one day away from bankruptcy.
Personal and business bankruptcy.
He was completely out of money.
Most would have thrown in the towel as a result of the relentless stress Musk was under.
But he didn't quit.
He fearlessly kept fighting.
Miracles often happen in the face of overwhelming adversity.
Life rewards individuals who do not quit and are fearless.
Life rewarded Musk with a capital infusion of $40 million that helped thwart financial bankruptcy.
A few months later, after three failures, his Falcon 1 rocket blasted off into space, obtained orbit and made headlines.
The federal government, shortly thereafter, awarded Space X with a $1.5 billion contract to carry satellites and supplies into space.
Musk's leadership habit of being fearless is why he succeeded.
He's worth $12 billion right now.
And the world admires him.
Winston Churchill is considered one of the greatest leaders in history.
His secret, like Trump's and Musk's, was his fearlessness.
In the face of overwhelming adversity, Churchill never wavered.
Even as England was on the precipice of annihilation during the darkest days of the German blitzkrieg, his fearlessness was like a virus that infected every one of his fellow countrymen.
It was this unrelenting fearlessness that ultimately caused Germany to alter their military strategy to instead attack the Soviet Union.
If it were not for Churchill's leadership, there is no doubt England would have been defeated and eventually occupied by Germany.
People admire leaders.
They are drawn to them.
Leaders are fearless in the face of adversity.
They don't cave in to pressure.
As a result they give the appearance of invincibility.
Trump now appears to be so invincible that the press has begun referring to him as Teflon Don.
People admire anyone who is not afraid to fight back.
They no longer care if the things Trump says are insensitive or insulting.
They have fallen in love with his fearlessness.
Fearless leaders change outcomes.
They disrupt the status quo.
They transform society.
Trump, Musk and Churchill are viewed by many as Davids fighting the Goliaths of the world.
And everyone loves underdogs who fear no one.

Subscribe & don't miss a single episode of Michael Yardney's podcast
Hear Michael & a select panel of guest experts discuss property investment, success & money related topics. Subscribe now, whether you're on an Apple or Android handset.
Need help listening to Michael Yardney's podcast from your phone or tablet?
We have created easy to follow instructions for you whether you're on iPhone / iPad or an Android device.

Prefer to subscribe via email?
Join Michael Yardney's inner circle of daily subscribers and get into the head of Australia's best property investment advisor and a wide team of leading property researchers and commentators.
---
---