---
Questioning popular beliefs
I watched Margaret Thatcher's funeral last night, and one of the many clergy who spoke, quoted her thus:
"You should never simply believe what you told, always question for yourself".
That's a key rule of investment. If you follow the crowd, you will most certainly buy and sell at the wrong time and miss out on the best investment opportunities. You often hear a number of phrases and buzzwords repeated in investing, and especially about the Australian housing market. One you hear quite often is: "Booms are always followed by busts."
It is certainly true that booms are sometimes followed by busts. But always? Or is it possible that with lower interest rates in many global economies and in inflationary environments (such as exist in most developed world economies) a boom may be followed my a steady fall in house prices or a plateau while wages catch up, before price growth returns.
Popular beliefs
Popular consensus would have you believe that the global financial crisis saw property prices across the globe plummet wildly, but is that actually true?
It certainly did happen in a number of countries. I know that in Britain house prices fell sharply in many areas away from London, although I note that price growth is now returning after a lull spanning several years.
As a homebuyer, presumably you would be buying with a longer time horizon than just a few years in mind so you will not lose out over the longer term.
As an investor, you are afforded the luxury of being able to invest wherever you choose and you are not restricted to any one region. In the areas in and around London, and notably in areas where supply is not keeping pace with demand in the populous south-east of England, prices barely fell at all and have now easily powered on to new highs.
Ireland
In the share markets I sometimes hear investors bemoan that "we worry about the Greek economy more than the Greeks do" – and it certainly sometimes feels that way when it comes to Australia's property markets.
Over and over again we see in-depth, detailed analysis of Ireland's property market crash. On the one hand, it is good that countries should try to learn from the mistakes of others, but on the other hand it may be offering false hope to housing market bears and first homebuyers to insist that because house prices collapsed in Ireland, then they must surely do so in Australia.
Nothing is guaranteed to attract more derision than a statement such as "it is different here!", but it is certainly true that Australia does not have the monumental oversupply of properties that Ireland achieved ("43 years worth of oversupply" and nearly 300,000 vacant houses) during its phenomenal run-up in housing market prices and construction.
It's true that I would not recommend investing in most of Australia's regional markets or mining towns with their rapidly rising vacancy rates, but in our capital city markets the populations are growing very quickly and vacancy rates in many areas are very low and below 2% (as compared to 15% in Ireland).
In the 12 months to September 2012, Australia's population boomed yet again by 382,500 people with a high proportion of immigrants heading to the capital cities.
Affordability dividend
The good news for Australians who are not yet on the housing market ladder is that in cities such as Brisbane and Adelaide, some years of weak price growth combined with falling interest rates have improved affordability dramatically.
It's true that median prices are high in Sydney and Melbourne, although reporting is often obsessively focussed on how hard it is for first homebuyers to buy property close to the city. What is rarely mentioned is that Sydney's west has suburb after suburb of gleaming 4 bedroom homes on huge blocks of land which are not particularly expensive, especially with interest rates and mortgage rates as low as they are.
It's also common to hear to that previous generations "never had it this tough" but the RBA's house price data contradicts that claim.
In this month's Charter magazine, Adam Creighton refers to Fisher's Money Illusion. Over three decades, incomes have oustripped price growth across all income groups in Australia, and since 2003, he notes, the poorest fifth of houses holds are $42 better off and the richest fifth $576. The Money Illusion refers to our instinctive focus on nominal price increases rather than real price movements after accounting for inflation.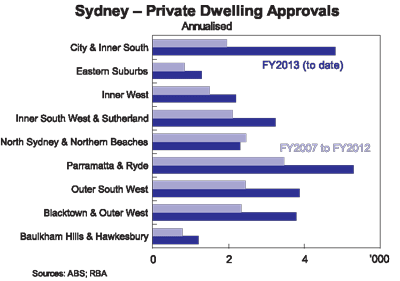 Last month Michael Matusik, who is well known for speaking his mind, opined: "It's nonsense. Well over 60% of first homebuyers bought 4 bedroom homes last year. Expectations are way out of whack."
Niagara Syndrome
I remember when I qualified as a Chartered Accountant in my mid-20s being well and truly unable to afford London house prices. In that scenario, you only really have two choices: you can either whinge about it or invest your money smarter elsewhere.
Moaning doesn't tend to achieve much, for as soon as you allow your own happiness to be dictated by outcomes which are outside of your own control, you are engaging in what Anthony Robbins would call 'Niagara Syndrome' and you risk being washed up in a place you didn't intend to be.
As the old sporting motto goes; "Control the controllables".
Global property booms
This website shows house price charts from around the globe. To pick a few at random from around the world:
France

Italy
South Africa
Argentina
New Zealand
Norway
Indonesia
Source: Global Property Guide
Could it rather sometimes be the case that with lower interest rates in many parts of the world, absolute prices have moved higher as bank lending criteria have been deregulated and owners can service higher repayments (particularly as many more households have more than one income today)?
Don't take my word for it. Check out for yourself the house price charts for Austria, Belgium, Canada, China, Columbia, Finland, Iceland, Israel, Luxembourg, Malaysia, Malta, Serbia, South Korea, Taiwan, Sweden, Uruguay…you will see that by no means must a boom necessarily be followed by a bust.
In some cases it might happen, but a certainty it is not.
In Australia we saw a downturn from 2010 through to the middle of 2012, with median prices on a nationwide basis falling from peak to trough by around 7%, while households set about improving their buffers.
Since May 2012, prices have rebounded strongly across the country. You should never say never, but we haven't seen a housing bust in any of Australia's major capital city property markets yet, and the property market recovery continues steadily.
[sam id=29 codes='false']
[post_ender]
SUBSCRIBE & DON'T MISS A SINGLE EPISODE OF MICHAEL YARDNEY'S PODCAST
Hear Michael & a select panel of guest experts discuss property investment, success & money related topics. Subscribe now, whether you're on an Apple or Android handset.
PREFER TO SUBSCRIBE VIA EMAIL?
Join Michael Yardney's inner circle of daily subscribers and get into the head of Australia's best property investment advisor and a wide team of leading property researchers and commentators.
---
---