Where have all the first home buyers gone?
Another urban myth that has been doing the rounds for the last couple of years – that would-be first time purchasers of property have gone "on strike" and have stopped buying – comes undone.
It has been obvious for a long time to those operating in the real estate industry that first-time buyers have been often buying an investment property first.
This means that they are not captured as first-time buyers in the official data, instead being categorised as investors.
With prices rising in several capital cities those endlessly pushing the "death of the first-time buyer" meme have not been listening to what the data is telling us.
Here's the problem:
Until now the levels of first-time buyers who are investors have not been easily estimated.
However, Martin North has now had a crack via a survey over at his Digital Finance Analyticsblog.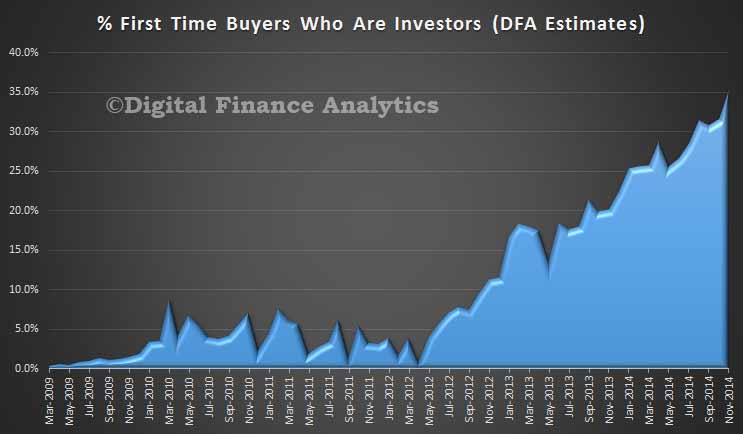 As we have known for a long while, first-timers are indeed buying investment properties first.
Completely unsurprisingly this implies that the absolute numbers of first time buyers have barely shifted at all.
With younger folk changing jobs and even careers (and therefore shifting locations) far more frequently than has ever been the case historically, buying an investment property to hold onto instead of a home as a first move on to the property ladder can make a good deal of sense.
The notion of repeatedly moving and "trading up" is fundamentally flawed in that it attracts prohibitive "frictional costs" such as transactional stamp duty levies, mortgage transfer fees, estate agent fees, legal fees and more.
Buying and holding an investment property is hugely more efficient and allows more flexibility, so who can blame first-timers for quite sensibly choosing that route?

SUBSCRIBE & DON'T MISS A SINGLE EPISODE OF MICHAEL YARDNEY'S PODCAST
Hear Michael & a select panel of guest experts discuss property investment, success & money related topics. Subscribe now, whether you're on an Apple or Android handset.
NEED HELP LISTENING TO MICHAEL YARDNEY'S PODCAST FROM YOUR PHONE OR TABLET?
We have created easy to follow instructions for you whether you're on iPhone / iPad or an Android device.

PREFER TO SUBSCRIBE VIA EMAIL?
Join Michael Yardney's inner circle of daily subscribers and get into the head of Australia's best property investment advisor and a wide team of leading property researchers and commentators.
---
---