---
It's long been our contention that if you want to buy a property which will increase in price ahead of inflation, you need to seek out certain key suburbs in capital cities.
Up until 2006, the nominal price of property was able to rise just about anywhere, firstly because of high inflation through the 1970s and 1980s, and then because of a wild increase in household debt after interest rates fell through the 1990s.
The debt binge peaked around 2006, and therefore we don't expect to see regional property increase ahead of incomes beyond that point in time.
The Reserve Bank's data shows how household liabilities ceased increasing faster than household disposable incomes way back in 2006.
Property investors should therefore follow the jobs growth, which means looking at the capital cities and not regional areas, as we analysed from the Detailed Labour Force data this week.
The only state which has shown significant regional jobs growth in recent times is Queensland. Elsewhere it has all been about the capital cities.
When looked at in columnar format the difference between the thriving capital cities and the floundering regional centres is stark.
Beyond the peaking of household debt levels, therefore, regional properties are struggling to even increase in price in line with inflation, as analysed by Martin North in the Digital Finance Analytics blog here.
North's chart below shows how up until 2006 rising debt levels caused property prices to rise across the board, but since that time capital city prices have diverged as one might well expect.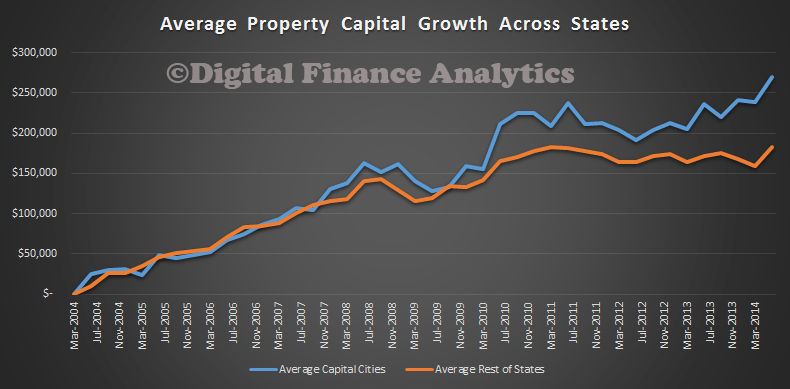 Take the example of Sydney dwelling prices (blue line) versus the New South Wales regions (orange line). Regional prices are not beating inflation.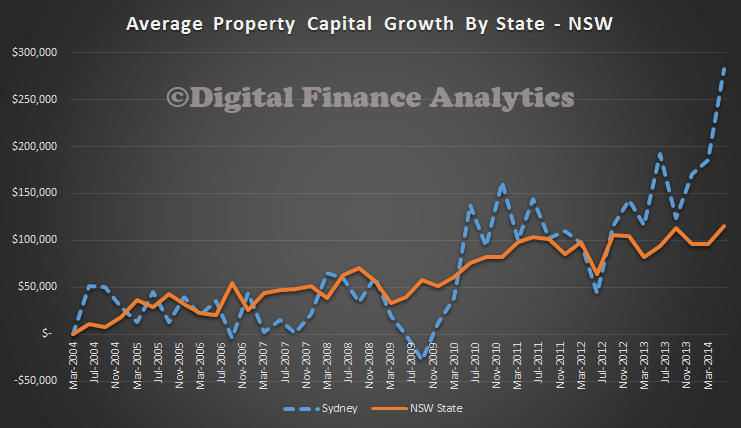 Sure, this is only the Sydney versus New South Wales chart, and it's only one such example.
But if you take a few minutes to check out Martin North's blog you will find that the same holds true in Victoria, Western Australia, South Australia, ACT, the Northern Territory and Tasmania.
[sam id=40 codes='true']
Regional prices in Western Australia are falling and all the more so when adjusted for inflation.
Adelaide prices have recovered to where they were in 2010, but regional South Australian dwelling prices are below where they were in 2010.
And so the story continues…
In fact, the only state where capital growth in the capital city has not outperformed has been Queensland – and that is because Brisbane has failed to produce any meaningful capital growth since around 2008, and when adjusted for inflation prices in Queensland have gone backwards since 2010.
In conclusion, property investors can no longer rely on increasing household debt to push up prices everywhere in perpetuity, and if they attempt to do so they will find themselves going backwards after inflation is accounted for.
Real capital growth over the long term will require real and sustainable wages growth, and this can ultimately only be sourced from employment and population growth.
All of this is increasingly focused on the capital cities where the knowledge and services based sectors use technological ingenuity and expertise to add value in the economy.
SUBSCRIBE & DON'T MISS A SINGLE EPISODE OF MICHAEL YARDNEY'S PODCAST
Hear Michael & a select panel of guest experts discuss property investment, success & money related topics. Subscribe now, whether you're on an Apple or Android handset.
PREFER TO SUBSCRIBE VIA EMAIL?
Join Michael Yardney's inner circle of daily subscribers and get into the head of Australia's best property investment advisor and a wide team of leading property researchers and commentators.
---
---