RP Data publishes its ever-entertaining Daily Home Value Index, and the property market recovery is well underway, with all of the main capital cities swamped in a delightful sea of green text!
Source: RP Data
Well, OK…not quite. Obviously, there's one city there which is in the red and showing a horrible decline of 3.5% over the last quarter. That's really, really not good.
The year-on-year prices in Adelaide will begin to show a worse result from next month, for the reported median home price in September 2012 was sitting comfortably above $430,000, some way higher than where it sits today.
Of course, 12 months is no sort of timescale upon which to judge a long-term property investment, but if a property market can't demonstrate price growth when interest rates are plumbing the lowest levels in a generation, you'd have to be concerned for what might happen when the easing cycle reverses from its nadir.
Adelaide's housing market has essentially done nothing since the beginning of 2008 and remains well below where it was in 2010. Meanwhile, Perth prices are up by 10.5% in a year, and in Sydney, dwelling prices are (literally) booming off the top of the chart.
Olympic…Damn
In 2008, BHP Billiton's completed its pre-feasibility study and set about planning a $30 billion expansion of its major Olympic Dam project.
So the theory went (although I've certainly never subscribed to it), South Australia was to be the number one state for property investors over the coming years.
You need to allow some time for these theories to be proven correct or otherwise, but it's now August 2013 and the Adelaide housing market has barely budged in spite of the widespread availability of cheap credit.
It's fine to be wrong, not that you'll often hear market commentators admit to being so. We're all wrong some of the time, after all.
For example, I've felt for some months that Commonwealth Bank (CBA) doesn't justify the premium at which it is trading to its price-to-book together with a PE ratio of above 15, but the market had other ideas and the price has nevertheless remained above $72 to date. C'est la vie – I'm a long-term shareholder, so I'm happy enough.
In the property markets, I felt quietly confident that Melbourne's established stock would see prices slide marginally in 2013, but it looks like I won't be right there either. Such is life.
The answer to sometimes being wrong, of course, is to go back to basics and establish an investment plan for the long-term to ensure that you achieve your goals.
I've covered my stock market views many times here before, and resources stocks don't play a big part for mine. In the real estate sphere, it means finding the cities where a massive and growing demand is outstripping a limited supply and where there is little land available for release (hint: that's ain't the distant suburbs of Adelaide; it's inner-ring Sydney).
Olympic Dam expansion shelved
In a past life I was the Group FC of a copper/gold resources company with mining operations in the Adelaide Hills of South Australia.
Even in our boardroom we had no genuine insight into the expansion plans of our SA mining counterparts as the BHP Directors mulled over their capex plans at Lonsdale Street.
Just to reiterate: even industry insiders and the execs of other South Australian copper miners couldn't be certain as to whether BHP's planned expansion of Olympic Dam was going ahead – there are plenty of leaky vessels on the ASX, but our buddies at the good ship Broken Hill Proprietary are generally pretty water-tight.
So when property market commentators boldly blazed ahead and instructed us all that the Olympic Dam expansion was definitively all systems go…well, that was completely and utterly bonkers.
Other projects
Of course, the promoters of South Australian property would say that there is more to the state than one mining project and that it would be wrong to down-play Adelaide's prospects based solely upon the shelving of the Olympic Dam expansion. I couldn't agree more – we should recognise the billions of dollar worth of other projects which got canned as well.
The Adelaide Advertiser reported that the cancellation of the $1 billion Arafura Resources rare earths project, the decision by Deepak Fertilisers to withdraw plans for an ammonia nitrate processing complex and the Olympic Dam deferral – "all potentially worth billions of dollars with major economic spin-offs" – were collectively a "major blow" to the Whyalla region.
[sam id=35 codes='true'] Whyalla mayor Jim Pollock said: "Arafura's announcement is disappointing. I know our community is resilient but is hard to build confidence after major projects get deferred or scrapped."
If these projects were touted as the very reason to invest in a region when they were in the pipeline, then it should equally be acknowledged when they are cancelled (rather than completely glossed over or just simply never mentioned again, as seems to be the way in the world of property investment advice).
In spite of the projects which got wiped, some of the better prospects for the state probably are still at Whyalla. In one suburb of Whyalla median prices have increased by around 15% since 2003, which is reportedly the "fastest rate of growth in the state". Reports news.com.au:
"A pocket of residents in Whyalla has seen the value of their properties rise faster than any other area in the state in the past decade, new data shows.

The median price of homes in Whyalla Stuart, in the western suburbs of the Eyre Peninsula town, has increased by 16.1 per cent since 2003, from $143,750, according to figures from analyst RP Data.

That figure was closely followed by Findon – which is Adelaide's fastest growing metropolitan suburb – as it saw a 15.8 per cent increase from $287,565 to $333,000."
Investors could have done so much better than invest in Adelaide over the past half decade.
Global downturn
Sadly, global sentiment has gone through a major reality check over the past 12 months and Dr. Copper doesn't seem at all happy about life, so I wouldn't be expecting copper/uranium mine expansions to come to the rescue when the copper spot is languishing at well below US$$3.20/lb.
The longer term outlook for copper may be bullish enough, but the majors won't become enthused about copper again until the spot heads back towards US$4.50/lb.
Olympic Dam also produces gold and silver deposits, but the prices of those metals have been absolutely clobbered too.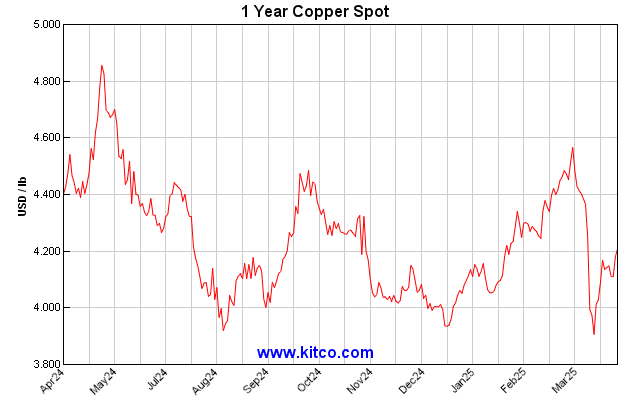 Source: kitco
On the plus side, with an ageing population in South Australia, the outlook is considerably brighter for the healthcare and social assistance sector, which employs the most heads in the state.
Is Adelaide about to boom?
Well, the future is inherently uncertain and activity has reportedly picked up a little, but I wouldn't think there is too much joy ahead for Adelaide. SQM's Louis Christopher recently reported that supply appears to be meeting demand in the city, which is rarely a comment you hear immediately before prices take-off.
Adelaide property prices also aren't likely to jump simply because they are cheaper than elsewhere.
While on the theme of SA mining, shares in Hillgrove Resources (HGO) are trading at under 10 cents to BHP Billiton's $35, but that certainly doesn't make HGO a superior investment to BHP – quite the opposite, in fact; HGO cheap because demand for it is woeful and its immediate prospects are poor, for this is the way in which assets are priced.
To think that property prices will go up in a city merely because they are cheaper than those elsewhere is misguided.
Slower demand
The population of the spacious South Australia is only expanding at a weak 15,500 persons per annum – as compared to a stonking 99,500 in Victoria, 93,000 in Queensland, 90,500 in New South Wales and 83,000 in Western Australia.
With land prices in Adelaide relatively cheap compared to Sydney, there doesn't appear to be any good reason why the city can't house its population in a reasonably affordable manner.
Best prospects?
I've seen nothing to alter the view which I formed in Australian property back in 2007 (in the decade prior to 2007, I was one of the many grateful beneficiaries of an outrageous British property boom): the best long-term prospects for Australian investors on a risk-adjusted basis have long been located in Sydney's inner-ring suburbs.
The market for quality properties in Sydney's inner-ring remains wretchedly tight and housing finance data shows that demand is booming with speculators snapping up well-located stock incredibly quickly – faster than anywhere else in the country. Further, the population of the city increasing by around 60,000 persons per annum. Economic growth? Employment growth? That's all about Sydney right now, too.
Finally, a heads-up to the RBA's team of chartists: you'll need to re-calibrate the y-axis on your dwelling prices chart…'cos Sydney is about to blow right off the top of the scale.
………………………………………………………………………………………….
If you're serious about property investment please join me and a group of property and tax experts at my upcoming Property Market and Economic Updates that I'll be conducting in 4 states in August and September 2013
I will be presenting a heap of BRAND NEW content I haven't discussed in public before. I guarantee there will be several things I reveal that you are not doing and you should be!
Click here now to get more details and reserve your seat.

If you want to cut through all of the media hype, and all the contradictory predictions, and finally learn the truth (good and bad) about what is going to happen to the Australian property markets, this seminar is exactly for you… Click here now to get more details and reserve your seat.
Michael Yardney
……………………………………………………………………………….

Subscribe & don't miss a single episode of michael yardney's podcast
Hear Michael & a select panel of guest experts discuss property investment, success & money related topics. Subscribe now, whether you're on an Apple or Android handset.
Need help listening to michael yardney's podcast from your phone or tablet?
We have created easy to follow instructions for you whether you're on iPhone / iPad or an Android device.

Prefer to subscribe via email?
Join Michael Yardney's inner circle of daily subscribers and get into the head of Australia's best property investment advisor and a wide team of leading property researchers and commentators.
---
---