Are we getting richer?
In 2013 a "Global Wealth Report" prepared by Credit Suisse found that thanks in part to the mining boom Australians had become the richest people in the world with a median wealth per adult of more than US$200,000.
When measured on an average basis Australians came in second only to the Swiss with an average wealth per person of more than US$400,000.
Such reports are interesting to a point, although of course they will always mask a large number of underlying trends, including generational, regional, or racial inequality, for example.
I saw an interesting debate on Twittersphere this week which obliquely referenced the question of whether Australians are getting richer or not.
And although I figured that households in aggregate must surely getting wealthier given that we haven't had a recession for 25 years, I realised I hasn't recently updated by charts.
One of the things worth noting about reports by guys like Credit Suisse is that by necessity they are denominated in US dollars, and thus without looking at an equivalent report for 2015 I'd hazard that with our dollar falling from around parity to around 75 US cents, then we wouldn't score quite so highly on Credit Suisse's measures today.
But what about when wealth is priced in our local currency?
Fortunately the ABS released its Household Finance & Wealth data for the December 2015 quarter last week, which might just help us to nut out the answer…
Aggregate household balance sheet
For the December quarter, the household balance sheet showed that net worth increased only moderately by around $119.4 billion in the last three months of 2015.
Over the year, household net worth increased by +8 per cent or $645 billion to a fresh high of $8.62 trillion, with solid increases in residential land and dwellings (+9 per cent to $5.86 trillion), but also total household liabilities (+7 per cent to $2.2 trillion).
Given that equities-based wealth and financial assets should grow substantially over time with a swelling population and compulsory superannuation contributions, total financial assets grew by an underwhelming +7 per cent over 2015 to $4.31 trillion.
In fact, this has been a recurring them over the past decade.
The commodities index has performed so dismally since 2008 that it has dragged our domestic share market performance down to the extent that our local index has barely budged for a decade.
That said, thanks to the power of compounding dividends have still delivered returns of around 56 per cent over the past ten years.
Net worth per capita in 2015
Largely driven by land and dwellings, household net worth has increased by $3.9 trillion or +84 per cent over the decade to December 2015.
Of course, as the population grows and the cost of living increases, then so too must household net worth in order for living standards to be maintained.
During the week I looked here at the latest population growth figures which showed that by December 2015 the population of Australia was nudging 24 million.
Using these figures we can plot an average net worth per capita in Australian dollar terms, which totals A$359,000, up from A$231,000 in December 2005, for a +54 per cent increase over the decade.
Much of this increase has been driven by property ownership, and after adjusting for cost of living increase the improvement or otherwise in wealth and living standards is largely determined by how households have fared in terms of the housing market.
The impact of the housing market slowdown in Q4 2015 is clearly visible even on this aggregate measure.
Winners and losers
One thing Australia has excelled at in recent times is to insist upon compulsory superannuation contributions for employees, which encourages people to invest from a young age, even if total returns from share market performance have not been so enthralling of late.
The reality is that headline numbers can only tell you so much, and there have as always been winners and losers over the past decade.
My philosophy has always been that you don't sell well-located property in cities such as London or Sydney, because one day in the future you will likely look back and regret having done so.
There was a lot of social media campaigning for a house price crash in Australia around 2008 – and in the end a serious correction did actually transpire in a number of resources regions – however, interest rate cuts have cushioned the shock for most homeowners.
As the mining boom hit its straps the Reserve Bank had ratcheted up the cash rate from 4.25 per cent all the way up to 7.25 per cent by 2008, which stored up a decent amount of ammunition for when the resources construction boom when into reverse gear.
With the cash rate now at only 2 per cent, homeowners in most capital cities have enjoyed a combination of rising house prices and lower repayments.
Gearing and serviceability ratios
The ABS also provides plenty of data on debt and gearing.
By the end of 2015 households held around $1.59 trillion of mortgage debt against $5.6 trillion of property assets (total residential land and dwellings are worth somewhat more than this, but the asset class is not entirely owned by Aussie households).
Dwelling price growth had evidently slowed by the fourth quarter of the year as credit was rationed.
As a result of slowing price growth the debt to land and dwellings ratio ticked up to 28.4 per cent, while the household debt to total assets ratio was steady at 20.4 per cent.
The interest payable to income ratio is now back down at the same level it was at around the turn of the century.
By the way, there's no need to message me to "verify the source data" for the "claims" I make on these metrics this quarter.
Instead I've just copied the ABS chart below – go and check the source data for yourself, it's here: Australian National Accounts: National Income, Expenditure and Product (Cat. no. 5206.0) Table 20. Household Income Account, Current prices).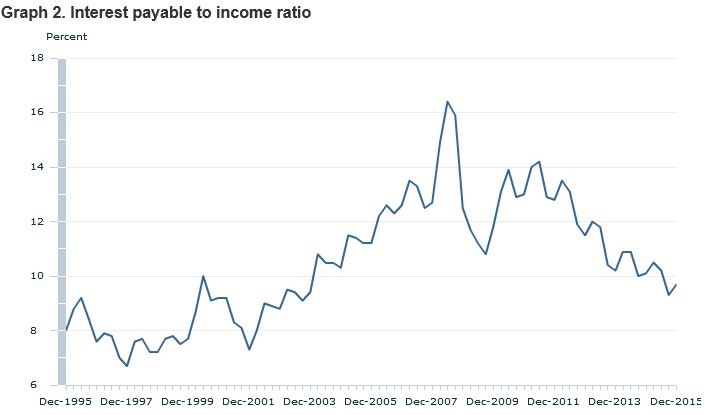 Source: ABS
The wrap
Household wealth sits at record highs of $8.62 trillion, while in per capita terms average wealth of around $359,000 per capita is also a record high having increased by +6.3 per cent in 2015.
However, when priced in US dollars, both our average and our median wealth goes less far than it once did should we travel overseas or repatriate funds elsewhere.
Furthermore, with land and dwellings representing by quite a margin the largest asset class at $5.9 trillion, how households have fared in terms of dwelling ownership has inevitably in turn had a significant bearing on where they score on the household net worth measurement.

Subscribe & don't miss a single episode of michael yardney's podcast
Hear Michael & a select panel of guest experts discuss property investment, success & money related topics. Subscribe now, whether you're on an Apple or Android handset.
Need help listening to michael yardney's podcast from your phone or tablet?
We have created easy to follow instructions for you whether you're on iPhone / iPad or an Android device.

Prefer to subscribe via email?
Join Michael Yardney's inner circle of daily subscribers and get into the head of Australia's best property investment advisor and a wide team of leading property researchers and commentators.
---
---