---
As Australia's largest mortgage broker, AFG's monthly index can sometimes be a reasonably useful gauge as to ongoing property market sentiment in something approaching 'real time', although it usually pays to interpret the data itself rather than solely relying on the ebullient wording of the ever-chipper AFG's releases.
Proclaims AFG:
"New mortgages processed in September were for an average of $418,000, a leap of $17,000 from two months ago, but borrowers are not proportionately taking on more debt says AFG, Australia's largest mortgage broker".
Average loan to value ratios (LVRs) have reportedly remained constant at around 68% since the start of the year according to the group.
"Average loan sizes varied from state to state. NSW has the highest average home loan at $507k, having broken through the half a million mark in August. WA is next on $421k, with VIC on $397k, NT on $374k, QLD on $357k and SA on $324k."
These figures to some extent appear to represent the relative strength of markets in Sydney, Perth and Melbourne, as well as the relative weakness of Brisbane and Adelaide, which reflects what median dwelling price data providers have previously reported.
Investors push loans to record volumes
Note the tremendous flood of investors hitting the Sydney markets (crowding out first homebuyers) showing up in AFG's figures:
"Across the nation, different states reflect very different characteristics. Almost half of all home loans processed in NSW were for investors, with only 4% for first home buyers. By contrast, in WA 25% of new loans were for first home buyers and 28% for investors.

SA is seeing a rise in investors from 27% in July to 35% last month, while in Queensland there has been a gradual creeping back of first home buyers (7% of new home loans) after the withdrawal of first home buyers grants reduced their share to just 4.5% last December.

AFG recorded another record-breaking month in September for mortgage volume, processing $3,624 million in home loans."
The total amount of loans written increased by 34% from $2,708 million in September 2012 to $3,624 million in September 2013.
The percentage of investors increased from 35.5% to 38.1% over the past 12 months while the percentage of first homebuyers slipped from 13.2% to 11.3%.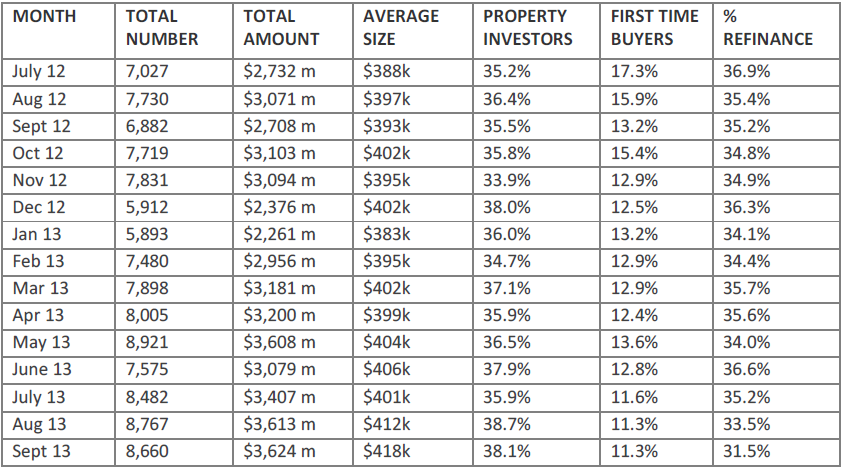 Source: AFG
As noted above, the loan sizes vary significantly by state.
Notably, there have been material increases in loan sizes in NSW (+11.7% y/y), but loan size growth is considerably weaker in certain other states.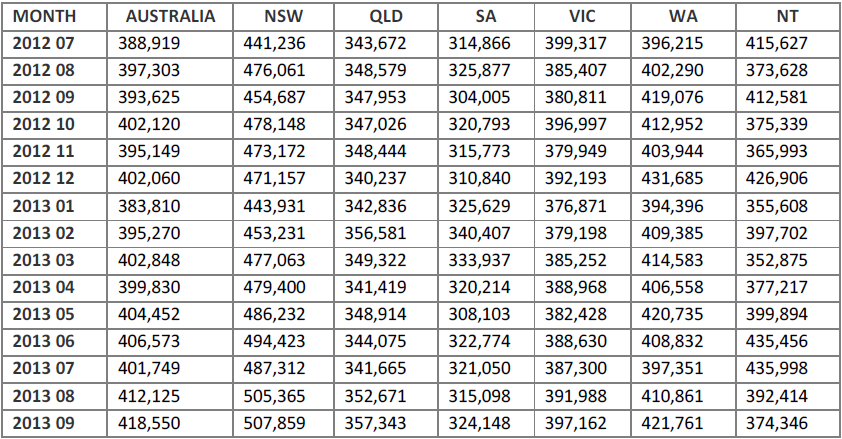 Source: AFG
Overall, the AFG figures indicate that the housing market sentiment continues to improve, but the rate of mortgage growth is far from consistent across the country.
In Sydney, increasingly the established sector is becoming dominated by investors making life very difficult for budding first homebuyers.
In some other states, sentiment appears relatively subdued, rather just improving very gradually since the first half of 2012.
The AFG data appears to reflect what the Australian Bureau of Statistics itself reported in its Housing Finance statistics up to July 2013, which shows a strong y/y increase in the value of dwelling commitments:
Source: ABS
The ABS has also shown an increase in the actual number of y/y dwelling commitments. Although the chart appears to be exploding to life this is rather a function of a somewhat deceptive chart axis:
Source: ABS
The ABS housing finance data for the month of August will be released on the 14th of this month and is expected to show a moderate increase in the value of dwelling commitments. If what I have seen first hand in Sydney holds true, keep a close eye for any sharp upticks in the forthcoming figures for fixed loans – investment housing.
[sam id=29 codes='false']
[post_ender]
SUBSCRIBE & DON'T MISS A SINGLE EPISODE OF MICHAEL YARDNEY'S PODCAST
Hear Michael & a select panel of guest experts discuss property investment, success & money related topics. Subscribe now, whether you're on an Apple or Android handset.
PREFER TO SUBSCRIBE VIA EMAIL?
Join Michael Yardney's inner circle of daily subscribers and get into the head of Australia's best property investment advisor and a wide team of leading property researchers and commentators.
---
---