---
There have been some big changes going on in the world of property finance over the last week or two.
In fact some of the biggest and fastest occurring changes I've come across in my investing career.
Only a few days ago I suggested mortgage rates will rise if Australian Prudential Regulation Authority (APRA), which is the prudential regulator of the Australian financial services industry, get its way.
Well they have…
Investor mortgage rates are on the way up.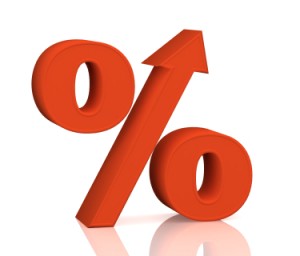 Both ANZ and Commonwealth Bank have increased their investment home loan interest rates. And National Australia Bank, Westpac and Macquarie Bank – are expected to follow ANZ and Commonwealth Bank's lead.
ANZ announced earlier this week that it will lift its standard variable investment home loan rate by 0.27 percentage points to 5.65 percent.
Commonwealth Bank also announced it will increase its standard variable investment home loan rate by 0.27 percentage points to 5.72 percent, and its 1-5 year fixed investment loans by 0.10-0.40 percentage points.
Why is this happening?
After warning of "heightened levels of risk" in the housing market, APRA has ordered the big five banks to increase the amount of capital they are required to hold against their residential mortgage exposures.
That means that ANZ, Commonwealth Bank, NAB, Westpac and Macquarie Bank will have to retain billions of dollars that would otherwise have gone out in home loans. The result is likely to be more expensive mortgages and reduced mortgage volumes.
The five banks currently hold an average of about 16 per cent equity against risk-weighted assets. That will rise to at least 25 per cent from 1 July 2016.
This regulatory change will therefore "enhance the resilience" of those banks and the broader financial system, APRA said.According to APRA's most recent banking statistics, these five banks leny 85.0 per cent of all owner-occupier loans in May and 86.4 per cent of all investor loans.
However, it applies only to the five banks, which use what is known as the IRB approach to credit risk. Australia's other lenders use a more conservative system, known as standardised risk weighting.
Michelle Hutchison, Money Expert at one of Australia's biggest comparison websites finder.com.au:
"So far investment home loans have been negatively impacted but it's likely that the major banks will use this new rule as an opportunity to lift owner-occupied home loan rates.

"Borrowers with a $600,000 home loan could face paying an extra $894 per year following the new APRA rules. For a $300,000 mortgage, borrowers could pay an extra $47 per year.

"Based on 30-year home loan of $300,000, homeowners could face increases of $19 per month or $223 per year for a 0.10 percentage points rise. If rates increase by 0.20 percentage points, this loan size could rise by $37 per month or $447 each year.

"For a $600,000 loan the outlook is even worse, with an extra $37 per month or $894 per year for a 0.10 percentage point rise and $75 per month or $894 per year for a 0.20 percentage point rise.

"We think it's great that APRA is encouraging our big banks to be world-class in terms of risk however, if it impacts on the cost of a mortgage it will hurt borrowers. It's important for banks to consider the best way to increase capital in line with the new APRA rules without adversely affecting consumers.

"If interest rate do rise as a result of the new rules, borrowers with the big banks – which is over 80 percent of borrowers – need to ensure they have a buffer to be able to afford higher costs down the track.

"However, the new rules will also bring greater opportunity for smaller lenders to shine so borrowers should keep a close eye on the home loan market over the coming months and compare the big banks with smaller lenders to get an even better deal."
If you're interested you can read more here:
---
---